Emarketing & content performance
5 Sep 2014
151 hits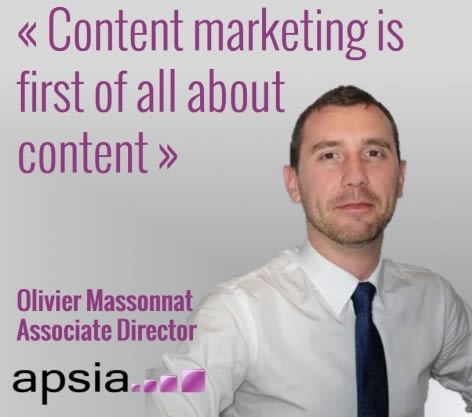 Case Study APSIA: leads and employment brand
Testimony: how have we increased our leads by 50% and amplified our employment brand thanks to Social Dynamite

The information systems market is booming and gives birth to a demand of differentiation from different actors. APSIA, a consultancy firm in innovation and transformation of information systems, would like to promote its brand by getting visible how wide is its offer and its methodology quality to its clients and prospects. Since there also a competition in Human Resources, the development of the notoriety of its employment brand is one of the principal leverage.
Olivier Massonat, APSIA Associate Director naturally chose a digital solution to boost his company's notoriety. His objective: "focus on content, reduce costs and focus on the broadcasting efficiency"
The deployment of Social Dynamite tool has fully matched his expectations as much in terms of leads generating as in amplifying his employment brand.
"We noticed benefits after a few weeks. This boost of notoriety got the pipe better than last year"
Et Perrine de Courcel, Human Resources Manager added:
"Today when applicants look for us, they find us. They see that we are active and that we have expertise to share".
---
Get the full case
The table below is from the full case that you can download for free.
Apsia increases its leads by 50% and boosts its employment brand thanks to social dynamite

Summary
APSIA, a consulting firm, uses Social Dynamite to improve its commercial performance and to increase its employment brand visibility.
Target Clients

Key accounts and SME
Professionals, business and engineering schools

Key points

After three months, Social Dynamite already brought APSIA commercial benefits. It extends the use of Social Dynamite to the broadcasting of its employment brand, by using its ambassadors: its own consultants. APSIA managed to combine two objectives.

Business Development performance
HR process efficiency by developing its employment brand
For more information, you can download the full case study.

---
Social Dynamite designs a solution focused on the brand contents broadcasting on social networks. We aim at developping the digital influence of brands and their visibility on the Internet within a structuring process. Social Dynamite is an efficient and simple suite of tools that was initially created for our clients.
For further information:

[Infographic] – Best times to post on social media
Create quality content is one thing. To make sure that they are seen, read and...Read more

Social Medias strategies to lead the e-commerce market
Nowadays, new opportunities have emerged for social medias. They managed to successfully combine with e-commerce...Read more