Emarketing & content performance
31 Jan 2014
204 hits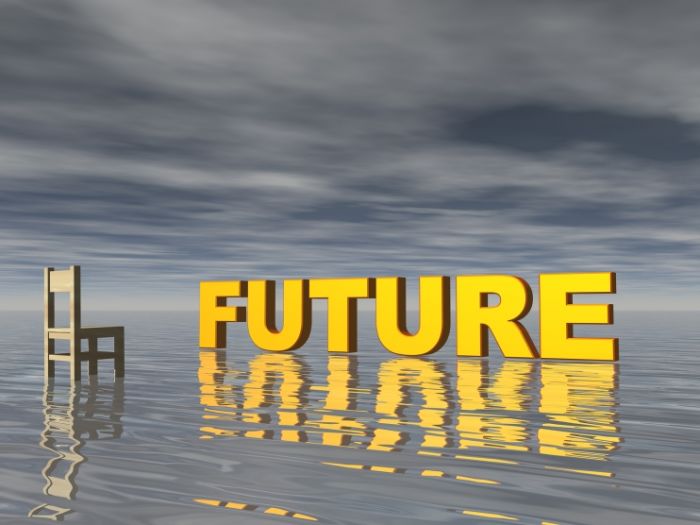 Marketing content trends in B2B
Unanimous. An american study showed that 93% of B2B marketers used brand content in their strategy. Our marketers should not wait too long to get impacted by the wave (not too harshly though). Let's see what they should expect in 2014 in the field of brand content.
58% of the marketers (still American) are aware of their lack of efficiency in terms of content management. At Social Dynamite, we feel like helping them and giving them some insights to plan the coming year with the right trends.
Social Media as a leverage for B2B content
Social media rapresent the first level to generate leads, comments, downloads of white papers and registration to newsltters.They directly impact the SEO and the fidélisation. These mechanisms work well in B2B. On our site for example, 81% of requests come from a B2B contact.
The American Study from the Marketing Institute reveals that B2B marketers used an average of 6 social platforms. They mainly invest on Social Media, SlideShare, Google+ and Instagram. Awareness, reputation and lead generation remain key objective.
Regarding efficiency, big companies rather use LinkedIn and You Tube; when smaller businesses tends to select LinkedIn, then Twitter and SlideShare.
The best results in terms of usage of social media networks were found on SlideShare, Google+ and Instagram.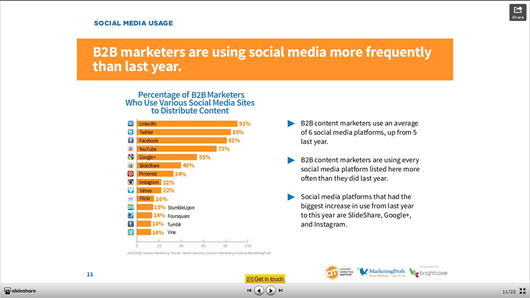 Source: Content Marketing Institute 2013
The lean content
The lean content tends to leverage the impact of the brand with slight resources thanks to content. Main focus on agility. The key objective of the Lean content is to test the most efficient display processes or content production systems, easily shareable from one plateform to another, contextual and reusable.
Example.
You are planning a presentation to give in an event. Right before the event, you send 1 or 2 slides to tease your future audience. Then, you post the whole resentation on SlideShare, the video made on site on You Tube and you set out some messages from your presentation in various articles. Welcome to the performance based approach in terms of awareness thanks to a similar but boosted content with a multiplier effect. Read the article from Project Studio : Lean Content..sorry, What?
Events and digital marketing convergence
Meeting industry operators are aware of the potential of digital marketing in their business. Furthemore, digital experts use events to digitalize content. They may use the lean content as described above, or implement a content marketing strategy supported by a dedicated tool and curation.
A good news for the professionals of the meeting industry if they have the right competence
On the mater, you can check the slides lately presented at EIBTM by Julien Carlier as President of MPI
Digital Marketing for Events - How to Schedule Live Influence ! EIBTM talk by Julien Carlier
Video
From now to 2014, video will rapresent 50% of the trafic on Internet. The study from Brainshark shows that 46% of the persons who saw a product or a service mentioned in a video will be more willing to search for information.
Once more, the lean content feels at home with the video subject: a good smartphone, a tripdod, you are all set. Otherwise, you can still contact experts who are aware of trends and can guarantee a certain level of quality.
Twitter cards
Based on the white paper from Vision critical, the Twitter cards attract 55% more leads than tweets that don't have photos. Even thaough this study is focused on BtoC target, this approach is relevant in BtoB.
Mobility
The social media landscape keeps welcoming rookies: Vine, Snapshat, Pheed or Line. Luckily, each of them focus on specific public. Pheed (first application to be downloaded on the Apple Store) for journalists and artists, Line for families and galers, Snapshat for the youth.
The key point is that social media use clearly evolves towards a mobile usage just like Line which has been exclusiveley designed for mobiles and count a hundred pages dedicated to brands. And also, follow-up and updates of all the companies pages on LinkedIn and Facebook. A dominant use to come.
Conclusion
To remain trendy and to optimize the digital communication, hard not to notice that Social Dynamite meets these requirements and is ahead of the game. Ergonomic and user-friendly, Social Dynamite perfectly feets into the lean content process, videos are more than welcome, and the responsive version live in 2014 adjusts to mobility and growing social media are aggregated on a regular basis: just as the LinkedIn company page in 2013.
---
Social Dynamite role is to help organizations to create business opportunities with their digital presence such as social networks. Social Dynamite is an efficient and simple suite of tools that was initially created for our clients. It is 100% content marketing oriented.
For further information:
Photo credit : BigStock

[Infographic] – Best times to post on social media
Create quality content is one thing. To make sure that they are seen, read and...Read more

Social Medias strategies to lead the e-commerce market
Nowadays, new opportunities have emerged for social medias. They managed to successfully combine with e-commerce...Read more