Emarketing & content performance
8 Apr 2014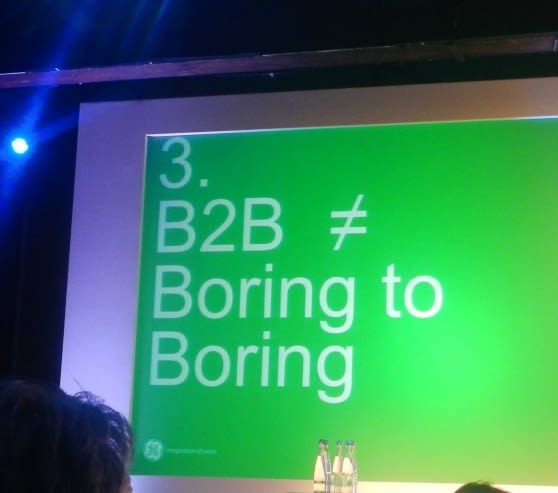 B2B is not boring to boring!
Not much room dedicated to B2B at SMWF in London but when it happens, then you realized with Jeff DeMarrais from GE that it not boring!
SMWF Europe, the key event in the social & digital marketing conference calendar took place last week in London. Main focus: social media management and implementation. As usual, the B2C sector happens to be the reference in terms of best-practices. When it came to reputation management, Jeff DeMarrais, Chief Communications Officer from GE Healtcare gave a good deal of advices from a B2B standpoint. All the quotes below refers to his speech at SMWF. Inspirationnal!


Quotes From Jeff DeMarrais, Chief communications Officier, GE Heathcare.
"The best way to defend your brand is to be a content creator not a content chaser."
"Social media is social; if you can't be social, what's the point."
"Challenge your company and explain why being there."
"Take smart risks. Think about your channels. Try new channels strategically."
"I made so many mistakes. You cannot be afraid to fail."
"If you don't take that swing; you leave to others to make your reputation."
Our favorite quote remains the one from one of his slides (see picture).


---
Social Dynamite role is to help organizations to create business opportunities with their digital presence such as social networks. Social Dynamite is an efficient and simple suite of tools that was initially created for our clients. It is 100% content marketing oriented.
For further information:

[Infographic] – Best times to post on social media
Create quality content is one thing. To make sure that they are seen, read and...Read more

Social Medias strategies to lead the e-commerce market
Nowadays, new opportunities have emerged for social medias. They managed to successfully combine with e-commerce...Read more